Well, it's been a week since we got back so I should update you with the last trip.
First up I should say that the trip was a great success. There were a couple of issues but they have been resolved, well mostly.
Our first night was at Goolwa, a lovely little caravan park which is dog friendly. That was important for our first night because we had our dog with us. Why is a long story but it is sufficient to say that she couldn't go to her holiday hosts for the first night we were away.
She was OK but we still decided to deliver her to the host for her holiday so we went back to Adelaide in the morning. We also made a stop at home to get the Doona off the bed because it was dammed cold that first night.
After a semi-false start we headed off in the direction we were originally planning to go. We went North to Renmark.
Renmark is a lovely rural city and if you haven't been there you should go. We stayed at the Big 4 caravan park which was clean and pretty good all round. There is lots for the kids to do and of course the river is right there for all the water sports you might like.
In the main street there is a very interesting fountain. It is worth visiting and reading the plaque.
One of the things we were having a problem with was the water tank. It was like a politician's promise, it didn't hold water. Because we also had continuous water through the filtered input I didn't bother about it while we were away.
After a couple of nights in Renmark we moved on to Swan Hill. Part of the reason for relocating was to go to Mildura to buy a portable electric grill. Yeah I know, that seems a bit strange but there was some logic to it.
I had loaded the gas b-b-q for outside cooking. Bear with me for a little diversion.
Many caravan owners cook meat and other things outside the van to keep the fats and smells out of the fabrics inside the van. Some of them use covered b-b-qs such as the Baby Q, others use open b-b-qs. I've also seen electric frying pans in use so there are a myriad of ways to achieve the same result.
We decided that we would get an electric something to do the job. I did a search online looking for electric b-b-qs and found lots but wasn't too happy about the prices I was seeing so I tried electric grills since what a b-b-q does is really grilling. I found a lovely little unit from Sunbeam which has a reversible plate with a flat surface one side and a ripple surface on the other. And their website said it was on special but there was a small problem, it's an exclusive product for The Good Guys.
A further search identified the closest Good Guys store as being at Mildura, which is why went there. As it turned out there was a managers special on that product as well so we got it at below cost, awesome. In our excitement at getting a bargain we also bought a Dyson stick vacuum cleaner. Now this is a bit of over-kill for the pocket handkerchief of carpet we have in our caravan but we figured that it would also be very useful at home so it's really a dual-use device.
Both products have performed flawlessly. The griller is so easy to clean up after use, just wipe it down with paper towel as not much sticks. The Dyson has also done a brilliant job in the van and today at home.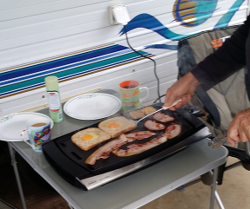 The instructions say that you need to have a heat-proof surface under the griller but the table under this didn't even get warm so I don't think this is likely to be an issue. Seems that that instruction is a CMA clause. If you do have a problem and something burns they are covered.
I call these Grecian Eyes, some people call them eggs in bread.
Quite frankly I think my name sounds better. Do you have a different name for this breakfast delicacy?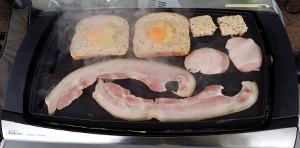 Back from the diversion.
There are two Big 4 caravan parks in Swan Hill. The first one we stayed at was substandard so, despite the fact that we had booked for three nights, we moved next day to the other one which was much better. The one we ended up at is called Big 4 Riverside and is next door to the Pioneer Village, also worth a visit.
When we made the switch we came across an issue which may well be standard across all caravan parks but I think isn't legal. I'm looking into it but the bottom line is that, in Australia, you are entitled to a refund if a product is not up to scratch or even if you change your mind. We didn't get a refund for the remaining two days of our booking. Since I didn't sign an agreement to that effect, this condition was not pointed out to me before I paid for the tree days, the condition was not pointed out to me after I paid and it was printed on the back of the map showing me where to park the van.
This does not constitute a contract, no signatures - no notification - no agreement, and is not enforceable in my opinion. I need to talk with my lawyer before I challenge this but I am certainly planning to fight it.
While in Swan Hill we did the river trip on the paddle boat Pyap. I have travelled on this once before with a company I previously worked for. It was a staff function in fancy dress. I was a convict for the night chained by leg irons to two other people, one male and one female. We had to remove the leg irons after a while due to the call of nature.
From Swan Hill we went to the Willow Bend caravan park in Wentworth. This is a very small park with quite reasonable facilities but a difficult to find office. We drove straight past it on the way in because we were looking at the river and the office is quite small on the right hand side as you enter the park.
The Wentworth jail is an interesting place to visit, the history is quite fascinating and apparently there are ghosts. We didn't see any of them.
From there we joined relatives at Loxton for 5 days. That was also pretty good, a nice park. Lots of Corollas in the Red Gums by the river who spent a lot of time talking. Some interesting wood sculptures in the middle of the road to the caravan park. Didn't do too much here, just took it easy and relaxed for a few days.
OK, summary of the equipment. The Pajero averaged just under 17 litres per 100 km. I think I'm happy with that. The van wheel bearings were nice and cool every time I stopped to check so the repacking was a success. I put some dry-lube on the torsion bars, the hanging brackets and other rubbing surfaces and pretty much eliminated the squeaks and groans I had been getting. The caravan is comfortable, it tows nicely, I was able to cruise at 90kph by the GPS which was about 102kph on the speedo. I even managed to overtake a slower vehicle comfortably at one stage.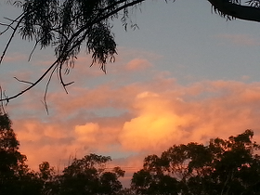 Last night at Loxton produced this sunset for us to enjoy.