Yep, we went to Burra and picked up our new caravan in our new Pajero.
There were a few things we needed to change before we could tow the van home.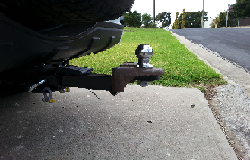 The torsion bar load levelling block didn't fit on the tow ball tongue so we had to turn it upside down which raised the front of the van a bit and meant we couldn't open the rear door of the Pajero.
The electrical link was too short to do left-hand turns so we removed the bracket and relocated the cable, with zip ties, so we did have sufficient length.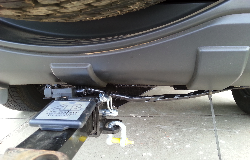 Other than that though everything went to plan. We stopped at the Gaslight Collectables and Old Books in Market street for a Cornish pastie, yum.
Having satisfied the inner beast we began the trip home. Since we went to Burra via Gawler, Roseworthy and the Barrier Highway we decided that we needed to go home a different way so we headed home via Clare. We paused in Balaclava to check tyre temperatures, a little unbalanced but within spec.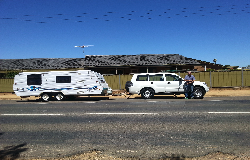 It's a pretty easy cruise from there back to Adelaide so on the way through the city I dropped my offsider off at his place and headed for home through the rush hour traffic. Being my first tow with this vehicle and caravan I took it pretty steady straight down Tapleys Hill Road, up Cement Hill and left to Main South Road. Very easy up the hill so pretty happy with the overall performance of the Pajero at this early stage.
Arriving home one of the neighbours had left his car in a difficult position for me so I had to put the van in by swinging it left rather than the preferred right. Even though we had the brick facade on the carport removed the day before it is still a difficult manoeuvre and a reasonably tight fit but it does fit.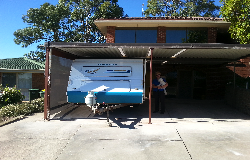 No, I didn't have help to guide me in except for the last few metres so I didn't hit the back wall.
We have had excited now fellow caravaners calling around to check it out and ask when we are taking it out for it's first run.
That will be soon. I have ordered the reversing camera for the van as I had to take several goes at getting it into the carport and I think the camera will make a big difference. A guide would also make a big difference but there won't always be one around.
I'll let you know when we are off on the first trip and how the camera turns out.